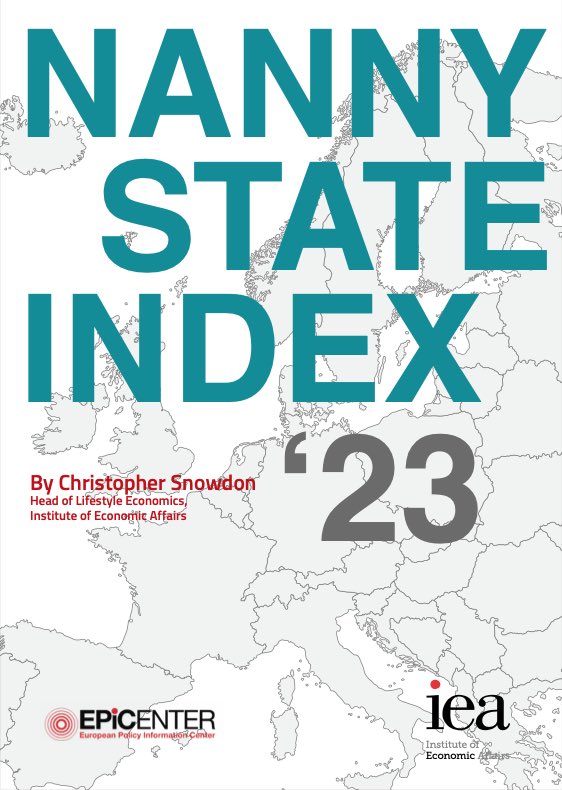 The new edition of the biennial Nanny State Index has just been published. Edited by yours truly, it sees new entry Turkey take the top spot with Lithuania, Norway, Finland, Hungary and Ireland in the chasing pack. The UK is up one place to 11th and is only prevented from a podium finish by its relatively sensible approach to vaping.
You can view the results on the website or download the PDF. You can read some of the media coverage here, here and here.
My comment in the press release:
"With the UK introducing some of the world's most nannying policies on food, it's no surprise to see it rising up the league table against stiff competition. The UK scores poorly in every category except e-cigarettes where it is the best in show.

Scotland and Wales drag down the overall score by having minimum pricing for alcohol, and the UK as a whole is the worst place in Europe to be a smoker.

With alcohol taxes rising sharply this year and more food regulation to come, things will only get worse.

The big picture is one of a constantly expanding nanny state raising prices and trampling freedom.

'The blame for this lies mainly with domestic governments, although the European Union is always keen to interfere and has banned flavoured heated tobacco products since the last edition was published (with an exemption for menthol)."
And I've written about it for the
Spectator
...
It has been a pathetic sight to watch politicians pleading with the supermarkets to lower food prices. Inflation has yet again proven to be more persistent than the government expected and it will do almost anything to bring it down. The Chancellor has even said that a recession would be a price worth paying to get the cost of living under control. But while the government resorts to 'voluntary price caps' on food, it still plans to ban most buy-one-get-one-free food offers in October. A double-digit hike in alcohol duty will come into effect in August. Smokers of rolling tobacco have already endured a tax rise of inflation plus 6 per cent this year.

Clearly the government's commitment to tackling high prices only goes so far. When it's a choice between addressing the cost of living and appeasing the 'public health' lobby, there is only ever one winner.